The thoughts shared by Ronald Plasterk in his column also raise concerns for Maurice de Hond. Not so much regarding the risk of political assassination, but rather about the possibility that, especially if PvdA/GreenLeft and D66 do not become part of the government, society could be disrupted by actions of those who believe we should make extreme efforts to combat climate change. These actions, according to de Hond, could be of a scale, severity and duration that we have not seen before in the Netherlands.
In the turbulent period of the corona pandemic, we witnessed the power of fear as a means of ensuring compliance with drastic measures.Not only were numerous activities halted and curfews introduced,but people were required to keep 1.5 meters away, even outdoors, and regularly wash or disinfect their hands. These measures were presented with the message that the risk was significant for almost all age groups. The use of fear as a tool is a theme that Dog has touched on before and compared with patterns we recognize in religious contexts.
Religions,whether large world religions or smaller, regional belief systems, have often used fear of danger (such as disease, famine, or war) and concern about life after death (heaven or hell) to persuade people to abide by their precepts. These prescriptions serve not only to control perceived danger, but also to keep behavior within certain standards, similar to the Ten Commandments in many religious traditions.
It is interesting to see a similar dynamic in the contemporary debate on climate change. The threat of climate change is often presented in strong terms, and for people who perceive this threat as urgent,reducing CO2 emissions is a way to mitigate the sense of danger.
Aparallelism can also be seen in how climate change is communicated.As during the corona pandemic, where selective or exaggerated information was sometimes disseminated, there are also instances where extraordinary weather developments are used as evidence to suggest that we are approaching the edge of a precipice. Less attention is sometimes paid to objective statistics and historical context. Similar to the criticism of the modus operandi of agencies such as the RIVM during the corona crisis.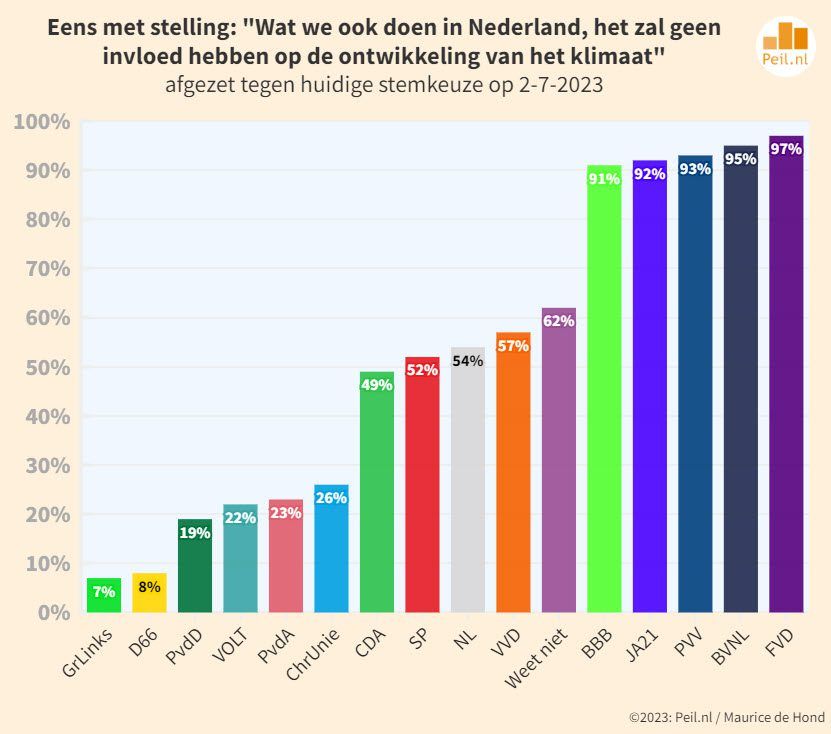 One striking difference between the reactions to the corona measures and climate change, however, is the degree of political consensus. During the corona crisis, the majority of Dutch people and political parties supported the measures taken. In contrast, with climate change we see a much broader range of views. A recent survey by Peil.nl showed that54% of Dutch people believe that whatever is done will have no effect on the climate. There is clearly a divide between voters of different political parties.
Help DDSthrough these difficult times. Help us make a fist against demainstream media as well as the party cartel. Fight side by side with us. Donate on BackMe and fight side by side with DDS against the globalist elites.